Organ Transplant
Transplant is a complex surgical procedure in which patient adherence with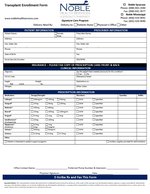 Transplant Enrollment Form transplant medications is critical and of utmost importance. Thousands of patients have organ transplants each year and our goal is to make sure that you continue to take your medications to live a long, healthy life. Noble Health Services strives to provide you with the care and expertise you deserve following a transplant.
The greatest concern after an organ transplant is rejection. This is caused by the body's immune system attacking the transplanted organ. The key in keeping these immune cells from attacking the new organ is to take immunosuppressant medications. Our clinical team is well versed in these medications with years of experience and the ability to cater to each patient's individual needs. Our team provides personalized patient care and adherence programs so that there is never a lapse in therapy.
Our team is experienced and familiar with these specialized medications and we understand that having an organ transplant can be a life changing event. We have a supportive staff that is readily available to answer any and all questions you may have about treatment and we do our best to relieve any stress you may have during treatment. Our clinical experts are available to you 24 hours a day, 7 days a week should you have any questions or concerns.